FREE Admission
WELCOME TO THE SERGEANT CHARLES FLOYD RIVERBOAT MUSEUM
& WELCOME CENTER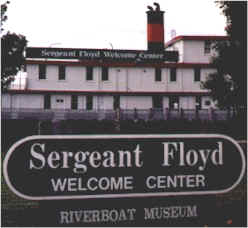 The SERGEANT FLOYD was launched at the Howard Shipyards of Jeffersonville, Indiana on May 31, 1932. She was purchased by the U.S. Government for the Army Corps of Engineers. Her mission was light towing, survey and inspection work on the inland waterways under the jurisdiction of the Missouri River Division of the Corps of Engineers.
The vessel was named in memory of Sergeant Charles Floyd, the only fatality of the journey.
ABOUT Sergeant Charles Floyd
(1782 - 1804)
Floyd was introduced to Meriwether Lewis and the Expedition during their stop in the Louisville, Kentucky area in October 1803. He enlisted into the Army in October 1803. Floyd finished the trip down the Ohio River and up the Mississippi River to the wintering area at Camp Wood River/Camp Dubois, 1803-1804. He was approved as a Sergeant on April 4, 1804 by the Captains and took command of the Second Squad.

POINTS OF INTEREST NEAR RIVERBOAT MUSEUM
"Spirit of Discovery" - Double life-size piece of Meriwether Lewis, William Clark and Seaman. The 14-foot-tall outdoor bronze sculpture at the Sioux City Lewis & Clark Interpretive Center.

"Lewis and Clark: An American Adventure". One-of-a-kind mural exhibit consisting of the most extensive collection of original, Lewis and Clark canvas paintings to date. Comprised of 38 different mural scenes, this exhibit takes you through the 8,000 mile Expedition from start to finish. Located at Southern Hills Mall.
Sergeant FloydMonument
Whether you're planning a weekend getaway or a week-long vacation in
Sioux City, Iowa, LewisandClarkTrail.com is your online connection for hotel reservations.
Know where you want to go? Search for the hotel rooms.
Still planning your trip? Find events on the LewisandClarkTrail.com events calendar, read travel stories and then finish planning your trip by booking your hotel and making hotel reservations at LewisandClarkTrail.com.
Locate the hotel that meets your travel needs.