St. Louis, Missouri
11 N 4th St, Saint Louis, MO 63102-1810

Call:( 314) 655-1700
Jefferson Monuments, Memorials, &
Nickel Series

Jefferson Memorial, Washington DC.

Louisiana Purchase Commemorative Statue
Jefferson City, Missouri


Thomas Jefferson Commemorative Statue
Jefferson City, Missouri
WELCOME TO THE JEFFERSON NATIONAL MEMORIAL
MUSEUM OF WESTWARD EXPANSION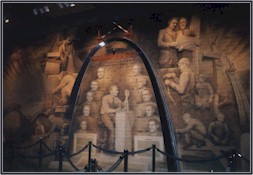 Located beneath the arch, you will discover the incredible journey of Lewis and Clark, Native American history, the hardships endured by travelers,
and view the largest collection of peace medals on display in the world.
The Museum of Westward Expansion preserves some of the rarest artifacts from the days of Lewis and Clark. Through our exciting exhibits, you can explore the world of the American Indians and the 19th century pioneers who helped shape the history of the American West.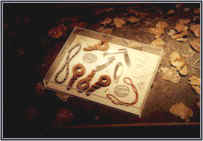 NOW SHOWING: "Lewis and Clark: Great Journey West" ~ See the odyssey of Lewis and Clark on
The Odyssey Theatre's giant four-story screen. Narrated by Jeff Bridges,
this film takes you with Lewis and Clark to explore the uncharted lands of the
Louisiana Purchase and beyond.
Lewis and Clark Photomural Exhibit
This exhibit is on permanent display on the back wall of the Museum of Westward Expansion under the Gateway Arch.
---
Whether you're planning a weekend getaway or a week-long vacation, LewisandClarkTrail.com is your online connection for Hotel Reservations and Cheap Flights
. Still planning your trip? Check out the events calendar, read travel stories, then finish planning your trip by booking your hotel and making airline reservations. LewisandClarkTrail.com invites you to locate the Hotel and search for Cheap Flights
that meet your travel needs. Thank you & travel safely.