Future for the Bridge
In 2009, this Historic Bridge will be a walking and biking bridge.
WELCOME TO THE MERIDIAN HIGHWAY BRIDGE
ON THE NATIONAL HISTORICAL REGISTRY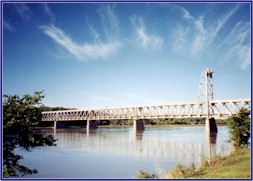 1,668 feet long on eight concrete piers, the Meridian Highway Bridge was officially dedicated on October 11, 1924, crossing the Missouri River and spanning two states, South Dakota and Nebraska.

The Meridian Highway Bridge was the final link for pioneer travelers who were traveling the 3,100 mile International Meridian Highway from Mexico City, Mexico to Winnipeg, Canada.

Source: Yankton : A Pioneer Past
, by Robert F. Karolevitz
↓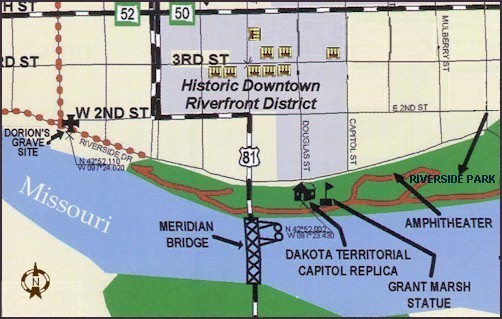 ---
Whether you're planning a weekend getaway or a week-long vacation in the Yankton, South Dakota, LewisandClarkTrail.com is your online connection for hotel reservations.
Know where you want to go? Search for the hotel rooms.
Still planning your trip? Find events on the LewisandClarkTrail.com events calendar, read travel stories and then finish planning your trip by booking your hotel and making hotel reservations at LewisandClarkTrail.com.
Locate the hotel that meets your travel needs.