Spirit Mound
ON Hwy 19
5 miles north of Vermillion,
South Dakota
Call: 605-987-2263
NO FEE AREA

The Spirit Mound hiking trail leads visitors approximately three-quarters of a mile from the parking lot to the summit. Interpretive signs along the trail telling the story of Spirit Mound.
Trail Map PDF 133KB
The area has a rich variety of prairie wildflowers and grasses, such as wild rose hips, evening primrose, sunflowers, silky aster and whorled milkweed. The prairie is home to Fritillary butterflies, birds and many other prairie animals. Over 300 acres of the prairie are currently being restored.
Through the cooperation of the Spirit Mound Trust, National Park Service,
SD Parks and Wildlife Foundation, and South Dakota Department of Game, Fish and Parks this 320 acres became part of the state park system in 2001.
WELCOME TO SPIRIT MOUND A NATIONAL HISTORIC SITE
AND PRAIRIE GARDEN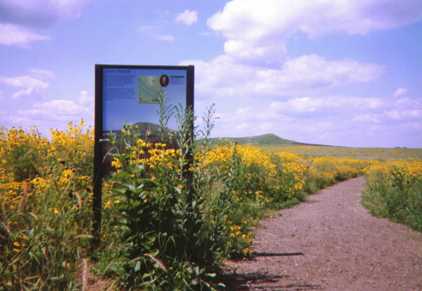 THE LEWIS AND CLARK SPIRIT MOUND LEARNING CENTER
LOCATED IN W.H. OVER MUSEUM -- LEARN MORE>>

Long before white men came to what is now South Dakota, the little hill known by the Sioux as Paha Wakan was held in awe by tribes for miles around. The Omaha, Sioux, and the Otoes believed that the mound was occupied by spirits that killed any human who came near.
On August 25, 1804, a hot, humid Saturday, Captains Lewis and Clark took 9 men and Lewis' dog Seaman; crossed the Missouri from their camp and walked nine miles to the Mound. It was a hard trip and Seaman, suffering from heat, had to be sent back to the Vermillion River. The men climbed to the summit, which they determined to be about 70 feet above the surrounding plain and to be of natural origin. They also noted the abundance of insects near the top, which attracted great flocks of swallows, and the Captains speculated that it was the birds that gave the mound its air of mystery.
August 25, 1804
"one evidence which the Inds give for believing this place to be the residence of Some unusisal Sperits is that they frequently discover a large assemblage of Birds about this Mound is in my opinion a Sufficent proof to produce in the Indian mind a confident belief of all the properties which they ascribe it." Captain Clark