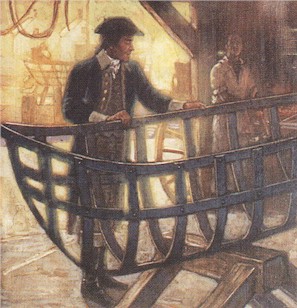 Cache # 2

June 26, 1805
"Capt. C. scelected the articles to be depostied in the cash consisting of my desk which I had left for that purpose and in which I had left some books, my specimens of plants minerals collected from fort Mandan to theat place. also 2 Kegs of Pork, 1/2 Keg of flour 2 blunderbushes, 1/2 keg of fixed ammunition and some other small articles belonging to the party which could be dispenced with." Captain Lewis
July 10, 1805

"had a cash dug and deposited the Fraim of the boat, some papers and a few other trivial articles" Captain Lewis
---
Lewis and part of the Corps of Discovery team would retrieve the cache on July 13 - 15, 1806.
Captain Lewis - July 13, 1806
"Had the cash opened found my bearskins entirly destroyed by the water, the river having risen so high that the water had penitrated. all my specimens of plants also lost. the Chart of the Missouri fortunately escaped. opened my trunks and boxes and exposed the articles to dry. found my papers damp and several articles damp. the stoper had come out of a phial of laudinum and the contents had run into the drawer and distroyed a great part of my medicine.."
Captain Lewis - July 14, 1806
"had the carriage wheels dug up found them in good order. the iron frame of the boat had suffered materially.. "
Captain Lewis - July 15, 1806
"Dispatched McNeal early this morning to the lower part of the portage in order to learn whether the Cash and white perogue remained untouched or in what state they were... "
---