WELCOME TO GIANT SPRINGS HERITAGE PARK
IN GREAT FALLS, MONTANA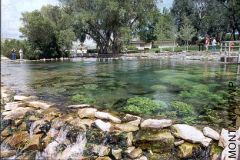 Giant Springs - One of the largest fresh water springs in the world!
Native Americans revered it, directly connecting it to a Blackfeet Indian Sun god. Lewis and Clark stumbled into it while portaging around the "Great Fall" of the Missouri. Today, you can still experience it for yourself by the gallon!

"It" is Giant Springs, one of the largest freshwater springs in the world. Flowing at a measured 338 million gallons of water per day. The water stays at a constant temperature of 54 degrees and has been carbon dated to be about 3,000 years old. It originates high in the Little Belt Mountains where rainfall and melted snow filter down through cracks in the 250 million year old Madison Limestone Formation.
Giant Springs is located in Great Falls, Montana's Giant Springs Heritage Park. Heritage Park also features Rivers Edge Trail, Visitor Center, and Roe River (the shortest river in the world!) Yes, that is correct. The Guinness Book of World Records has proclaimed the Roe River, fed by one of the "largest" springs in the world, to be the shortest river in the world! It has been measured on different occasions, with lengths varying from 58 feet to 200 feet. The tiny river connects Giant Springs to the Missouri River.
To contact the Park Call: 406-454-5840 or Click Here >>
Visit neighboring GIANT SPRINGS Bottling Plant & take a tour! >>