<![if !vml]>
<![endif]>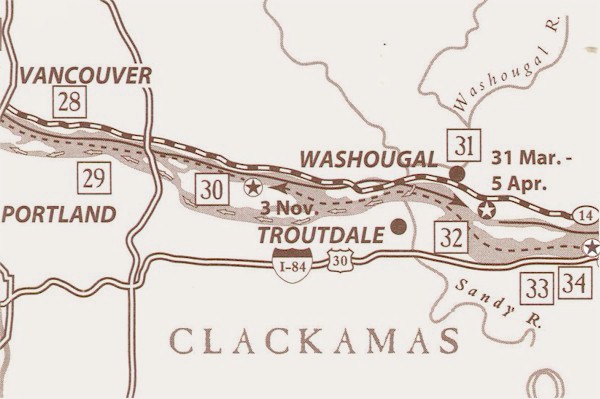 28. Vancouver National Historic Reserve: The replica of Hudson's Bay Company's Fort Vancouver overlooks the area of the Corps' campsite, whose exact location is uncertain. Visitor center and interpretive signs.
29. Portland International Airport: The Corps twice visited Neerchokioo bvillage, a temporary residence for Shahala Indians when gathering wappato-the site is now under airport parking lots. No interpretation.
30. Government Island: Lewis & Clark called this "Dimond Isl" for its shape, and camped on its north shore. Access by boat only.
31. Parker's Landing: Camping at the mouth of the Washougal for six days. the Corps traded with the Indians and hunted elk for the return trip. Interpretive sign.
32. Lewis & Clark State Recreation Site: The Corps' hunters explored this area at the mouth of the Sandy River, which they called the "Quicksand". Sergeant Pryor ascended six miles. Interpretive signs and botanical trail; historical museum in Troutdale.
33. Vista House/Crown Point State Park: The original "comfort station" on the Historic Columbia River Highway commands a 30 mile view of the Columbia River Gorge National Scenic Area and several Lewis & Clark sites. Interpretive exhibits/signs.
34. Rooster Rock State Park: Clark wrote " we encamped under a high projecting rock on the Larboard Side"- Interpretive signs.
Map Source: Lewis & Clark Bicentennial in Oregon 1200 SW Park, Portland, OR 97205. Ted Kaye & Roger Cooke.