The Museum's collections are housed in a castle-like chateau overlooking the Columbia River Gorge in 26 acres of park-like gardens on 6,000 acres of ranch land.
There is a spectacular promontory on the east side of the Museum's gardens where a series of interpretive panels have been placed that convey details about the Corps three-day stay in the area. From this location you can view an extensive section of the Columbia River and several sites that the Corps of Discovery visited on their way to the Pacific in 1805.
Lewis and Clark walked across part of Maryhill Museum's acreage on their return journey on April 22, 1806.

An extensive Native American Collection comprised of rare prehistoric rock carvings, intricate baskets (equivalent to those that Lewis and Clark documented) and beadwork, plus an array of unique artifacts from throughout North America.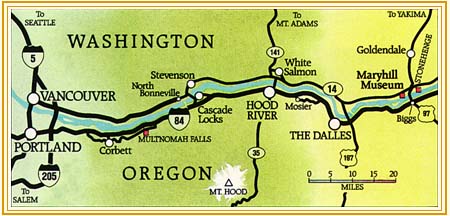 ---