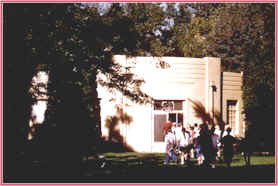 Did You Know?
On October 16, 1805, the Expedition arrived at the confluence of the Snake and Columbia rivers, the site of today's Sacajawea State Park.
Lewis and Clark encountered two groups of natives which the captains called Chimnapams and Sokulks, today known as the Yakimas and Wanapams respectively.

Lewis and Clark purchased several dogs for dinner from the natives.

Lewis and Clark collected their first specimen of the sage grouse, a species new to science which they had seen earlier (June 5 and August 12, 1805).
Lewis and Clark documented the custom of the lower Columbia tribes placing infants in a special cradleboard with an angled board compressing the forehead; in some cases a tight headband. The eventual effect on the soft skull of the child was the shape noted by Clark, the head becoming decidedly pointed. The deformed head shape was considered a mark of distinction, beauty, and superior status. Slaves were not allowed to deform the heads of their children.
The waters of the river were clear, and salmon could be seen at a depth of 15 - 20 feet.