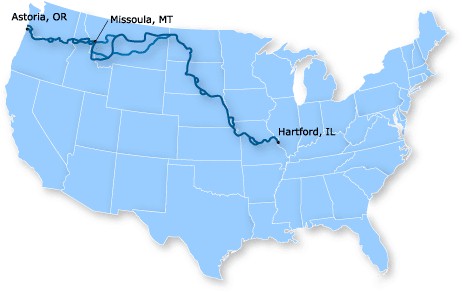 For more than 25 years, the Missoula, Montana-based Adventure Cycling Association has been sending research teams into the field to track down the very best cycling byways in North America.
Now, the American Cycling Association has mapped a new trail to honor the Lewis and Clark Expedition.

Some individuals have asked, "Why a bicycle trail?' After all, the Corps of Discovery traveled primarily over water."

"Our answer to that," said LCBT national coordinator, Michael McCoy, "is that the bicycle is perfectly suited to exploring the landscapes and mindscapes of the Lewis and Clark expedition. A bicycle covers ground relatively quickly, yet forces modern-day explorers to slow down and be exposed to the elements." McCoy added that bicycling the LBCT, which primarily follows existing paved roads, will permit riders to see many of the same sights, and hear the sounds and smell the smells, that Lewis and Clark experienced 200 years ago.
For the ultimate Lewis and Clark experience the Lewis & Clark Bicycle Trail is the only way to go. This new Adventure Cycling route follows the famous explorers' trail as closely as possible and includes options for the different routes the corps took on their return trip.