Meriwether Lewis
August 18, 1774- October 11,1809
( 29 years of age when the Corps of Discovery began their journey in 1804)
William Clark
August 1, 1770 - September 1, 1838
( 33 years of age when the Corps of Discovery began their journey in 1804)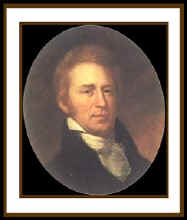 Their encounter, during a brief period with a rifle company, would bond them into a friendship. It was because of this friendship, Lewis called upon Clark to be his co-commander from 1804 -1806 with the "Corps of Discovery". Together they served harmoniously.
Returning from the Expedition, both Lewis and Clark served as governors. Lewis as governor of Louisiana Territory and Clark as governor of Missouri Territory plus an appointment as
Superintendent of Indian Affairs in St. Louis
.

"Who were Captains Meriwether Lewis & William Clark? (PDF 562 KB)
From Lewis & Clark on the Great Plains Edition
"Captain Clark & Sturgeon" along the Discovery Trail in Washington
Learn More >>
Statues Commemorating
Lewis & Clark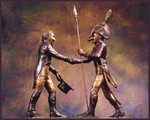 "When they Shook Hands", Clarksville, Indiana at Falls of the Ohio Park Learn More >>
"The Captain's Return" St. Louis, Missouri
Learn More >>
"The Corps of Discovery" Jefferson City, Missouri
Learn More >>
"First Council" at the Fort Atkinson State Park, Nebraska
Learn More >>
Kansas City, Missouri at Case Park overlooking Missouri River
Learn More >>
Lewis and Clark Interpretive Center, Washburn, North Dakota
Learn More >>
Great Falls, Montana at Overlook Park, overlooking the Missouri River
Learn More >>
"Explorer's at the Marias" Fort Benton, Montana
Learn More >>
"Arrival" at Fort Clatsop, Astoria, Oregon
Learn More >>
"End of the Trail" at Seaside, Oregon
Learn More >>
"Captain Clark & Sturgeon" along the Discovery Trail in Washington
Learn More >>