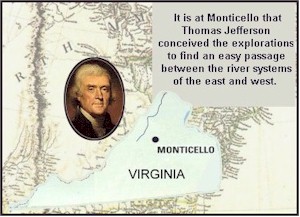 THOMAS JEFFERSON &
LOUISIANA PURCHASE (You are here)
Thomas Jefferson was the third President of the
United States.

Jefferson's Vision
Jefferson's unquenchable thirst for knowledge
Thomas Jefferson Papers
1797 - 1801- Jefferson served as Vice President

1800- The National government moved from Philadelphia (after 10 years) to the new Federal City on the Banks of the Potomac. The exact site of the new Federal City was to be selected by Washington himself, and it was later named in his honor.



1801- Thomas Jefferson became the 3rd President of the United States (he was 58 years old).


1801- United States census confirmed over 5 million people living east of the Mississippi


1801- Rumors began to circulate in New Orleans that Spain had secretly transferred Louisiana to France.

1801- The process of designing Jefferson's Peace Medals is undertaken by the US Mint

1802- Rumors of 1801 were confirmed


Spring of 1802- President Jefferson sent a dispatch to the American minister in France, Robert R. Livingston to negotiate the purchase of New Orleans.

January 18, 1803- President Thomas Jefferson launched the Lewis and Clark Expedition with a confidential letter to the Congress of the United States of America, "The river Missouri, & the Indians inhabiting it, are not as well known as is rendered desireable by their connection…with us…An intelligent officer with ten or twelve chosen men…might explore the whole…to the Western Ocean"


1803- President Jefferson appointed James Monroe to assist Livingston in the negotiations. Upon arriving Monroe learned that Napoleon had offered to sell the entire Louisiana territory to the United States.


April 1803- The treaty transferring Louisiana to the United States was signed.

1804 - President Jefferson re-elected as President


Spring 1809- Jefferson returns to his Virginia home (Monticello).


1819 - Jefferson persuaded the state legislature to charter the University of Virginia. Jefferson designed the schools main buildings and helped shape its curriculum and choose faculty.

---

Jefferson's accomplishments: Writer of the Declaration of Independence, naturalist, meteorologist, paleontologist, architect, musician (violin), botanist, Native American collector & purchased the Louisiana Territory.