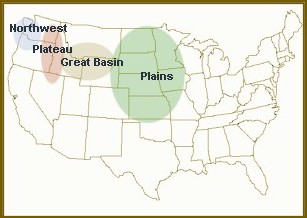 Lewis & Clark encountered over 50 Tribes

GREAT BASIN INDIANS - Shoshone, Bannock, Pauite
Known as Digger Indians; foraging and digging for edible wild plants - roots, berries, seeds, and nuts.
---
NORTHWEST COASTAL INDIANS -Chinook, Tillamook, Clatsop, Salishan
Were among the premier Native American woodworkers. Northwest Coastal Indians often erected giant totem poles outside their houses.
---
PLAINS INDIANS

-

Blackfeet, Assiniboine, Crow, Hidatsa, Mandan, Yankton Sioux, Arikara, Teton Sioux, Ponca, Omaha, Otoe, Kaw, Missouri, Osage

Nomadic lifestyle following the buffalo herds. Most famous of all Indians for their horsemanship, buffalo hunting skills, teepees, and war bonnets.
---
PLATEAU INDIANS

-

Yakama, Umatilla, Walla Walla, Nez Perce, Flathead, Wishram, Wanapum, Palouse, Cayuse, Klickitat, Methow

Living along the Columbia River Basin and its tributaries, the Plateau Indians were skillful fisherman. Salmon was their main food source; supplemented with a variety of berries and roots.
---